Our Events
10/04/2018 from 5:00 pm to 7:00 pm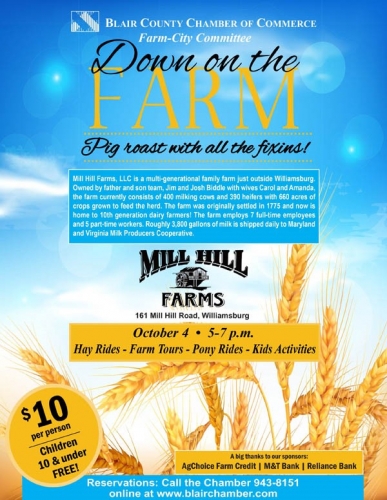 'Down on the Farm'
Community Event
The Blair County Chamber of Commerce Farm-City Committee is gearing-up for its annual 'Down on the Farm' event to be held Thursday, October 4 from 5 – 7 p.m. This year's host will be Mill Hill Farms, located at 161 Mill Hill Road in Williamsburg.
'Down on the Farm' is a great event for the entire family to enjoy an all-you-can-eat pig roast, hay rides, farm tours, pony rides and other activities for the kids. Admission is $10 per person. Children 10 and under are free.
This event is part of an on-going effort of the Chamber's Farm-City Committee to raise awareness of the important economic impact our agricultural community has on our region.
Sponsors for the "Down on the Farm" event are AgChoice Farm Credit, M&T Bank and Reliance Bank. To make a reservation, call the Chamber at 943-8151 or register online.